Exciting 2011 book releases #3
Cryer's Cross - Lisa McMann
Release date: Feb 8 2011
The small town of Cryer's Cross is rocked by tragedy when an unassuming freshman disappears without a trace. Kendall Fletcher wasn't that friendly with the missing girl, but the angst wreaks havoc on her OCD-addled brain.
When a second student goes missing - someone close to Kendall's heart - the community is in an uproar. Caught in a downward spiral of fear and anxiety, Kendall's not sure she can hold it together. When she starts hearing the voices of the missing, calling out to her and pleading for help, she fears she's losing her grip on reality. But when she finds messages scratched in a desk at school - messages that could only be from the missing student who used to sit there - Kendall decides that crazy or not, she'd never forgive herself if she didn't act on her suspicions.
Something's not right in Cryer's Cross - and Kendall's about to find out just how far the townspeople will go to keep their secrets buried.
Iron Knight - Julie Kagawa
Release Date: unknown!
From Julie Kagawa's blog
:
The big SEKRIT PROJECT revealed
By now its all over Twitter, so this a bit late, but anyway…I've been keeping this a secret for months, and I finally get to announce it.
So, here it is, the big SEKRIT PROJECT:
Iron Fey #4
THE IRON KNIGHT:
Ash's story.
Coming soon from Harlequin TEEN.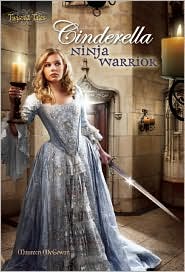 Cinderella: Ninja Warrior
Release date: April 2011

Cinderella lives in a magical kingdom with many highly-trained wizards, both good and bad. Her stepmother uses magic for evil. The stepmother married her father to steal her late mother's wand, and she killed him when he refused to comply. She is jealous of Cinderella's beauty and both hopes and is threatened that the girl might have inherited an aptitude for magic. She casts spells on Cinderella to control her, requires her to do tedious housework, and often inflicts unnecessarily harsh punishments on the young girl. In spite of her hardships and mistreatment, Cinderella perseveres. She possesses a skill for martial arts and secretly practices to hone her abilities, hoping someday she'll be strong enough to escape her stepmother's nefarious grasp.One day, an invitation arrives for a Magic Festival celebrating the prince's birthday. Despite her nubile magic powers, Cinderella wants to enter the magic competition in an attempt to break free of her family. When Cinderella discovers her mother's wand, she becomes aware of her innate magic abilities. Will Cinderella perform well in the competition? Will she catch the eye of the prince? Will she escape her stepmother's control? Here's the twist—you're in control. At three points during the story, you get to decide what Cinderella would do next. Depending on your choice, you flip to that relevant tab for the continuation of the story, and her adventures unfold. And the extra fun part? After reaching one outcome, the reader can re-read the book, choose different options, and read an entirely different story!

Cryer's Cross sounds like a great thriller and lots of people are saying it's too scary to read alone. I look forward to getting my hands on that! As for Iron Knight, I ripped through the first Iron Fey books and can't wait to see inside Ash's head and see what he does to get Meghan back!

Remember the choose your own story books from when you were a kid? Goosebumps had heaps of them. Cinderella: Ninja Warrior brings back an old tradition and lets you pick your story!

That's all for this week so get comfy and get reading!