#36 of 200
Original Language: English
Publisher: Feiwel & Friends
Publication Date: 2009
ISBN: 0312380968
Page Count: 368
All her world's a stage.
Bertie Shakespeare Smith is not an actress, yet she lives in a theater.
She's not an orphan, but she has no parents.
She knows every part, but she has no lines of her own.
That is, until now.

Enter Stage Right

NATE. Dashing pirate. Will do anything to protect Bertie.

COBWEB, MOTH, MUSTARD SEED, and PEASEBLOSSOM. Four tiny and incredibly annoying fairies. BERTIE'S sidekicks.

ARIEL. Seductive air spirit and Bertie's weakness. The symbol of impending doom.

BERTIE. Our heroine.

Welcome to the Théâtre Illuminata, where the actors of every play ever written can be found behind the curtain. They were born to play their parts, and are bound to the Théâtre by The Book—an ancient and magical tome of scripts. Bertie is not one of them, but they are her family—and she is about to lose them all and the only home she has ever known.
Lisa Mantchev's debut novel, Eyes Like Stars, is the witty, clever and full of delightful beginning to her new Theatre Illuminata trilogy. It is a fun and interesting new take on the world of theatre and Shakespeare with a vivacious heroine.
Beatrice Shakespeare Smith, named for the Shakespeare and his most independent heroine, is the odd one out at Theatre Illuminata. Left at the door of the Theatre as a baby, the Theatre and its cast are the only home she has ever known. Yet Bertie is no actress and unless she can find herself a vital part to play, she will end up on the streets.
Matchev has created a mystical and magical environment in the Theatre Illuminata, one brought to life by the characters from every play ever written. The plays of William Shakespeare, notably Hamlet, play a fundamental role in Bertie's adventures in the Theatre. Her entourage of faeries were Titania's court in A Midsummer's Night Dream while her cunning and decietful love interest Ariel is the enslaved wind spirit from Tempest. Matchev uses the familiarity of Shakespeare, even to the uninitiated, to her readers in Eyes Like Stars to bring a whole new story to light.
In the same way Bertie revitalises Hamlet, Matchev brings a new light to old characters. Her faery companions, like Peaseblossom and Cobweb, are sweet, companionable trouble makers; Lady Gertrude is haughty; and Ophelia is easily troubled and confused. Yet, as always, each has a role to play in Eyes Like Stars while they maintain their original unique personalities and lines.
Though the narrative begins in a slightly confusing way it quickly becomes engrossing and hard to put down. Bertie is everything you can want in a heroine; pretty, clever, and decisive with a touch of naivety and hesitance. Far from perfect, she is beguiling and confident.
Though I don't like the love triangle angle, they are beginning to pop up more and more, the competition between Nathan and Ariel is amusing. Nathan's instinctive protectiveness and his rugged pirate looks make him appealing, while Ariel's charm and cunning are intriguing.
It is fitting, as a story set in a theatre, for sections of the narrative to be written in script. Instead of telling a story within a story, Mantchev has her characters tell a story in script. It suits the story and the characters better than gathering around in a circle to tell a tale.
I am heartily impressed with Lisa Mantchev's
Eyes Like Stars
and look forward to reading the sequel
Perchance to Dream.
The third
Theatre Illuminata
book is due for release in September this year. The cover release is happening in fragments all week.
Fragment #1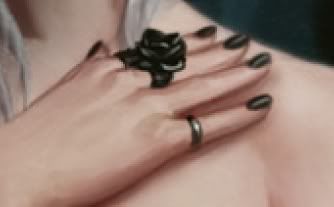 Keep reading for more
So Silver Bright
cover reveals!
Raiding Bookshelves Rating
Judging by the Cover:
Eyes Like Stars
has a beautifully illustrated cover. It shows Bertie's independent style and the faery's surrounding her looks amazing. Her pose, slightly turned, in front of the curtains gives away clues about the story without acting as spoilers.